Cedric
was a thief who got possessed by the spirit of
Cornelius Sigan
.
Biography
Edit
Cedric was in the Tavern when a miner working under the castle told him about a 'Jewel' the size of a fist. Cedric came up with a series of lies and plans to try and get access to Arthur's Chambers to steal the key to the tomb. Cedric was then favoured by Arthur, replacing Merlin as his manservant so that he could steal the beautiful 'Jewel' found in the tomb underneath Camelot.
However, the
Jewel
actually contained the soul of
Cornelius Sigan
, a powerful and evil sorcerer from Camelot's past, who possessed Cedric's body. Sigan later released himself from Cedric's body when he attempted to take over Merlin's, who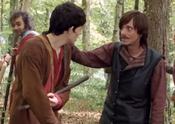 resisted using a powerful spell
Kilgharrah
gave him, and trapped Cornelius back into the jewel he was in before the possession. The fate of Cedric is unknown, but
he may have died, been arrested or fled Camelot (The Curse of Cornelius Sigan).
Ad blocker interference detected!
Wikia is a free-to-use site that makes money from advertising. We have a modified experience for viewers using ad blockers

Wikia is not accessible if you've made further modifications. Remove the custom ad blocker rule(s) and the page will load as expected.