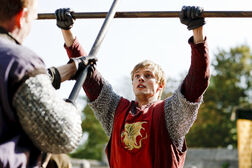 A
duel between King Olaf and Prince Arthur
occurred in the midst of the
Peace of the Five Kingdoms
negotiations. The duel was instigated obliquely by
King Alined,
whose servant,
Trickler
, had given
love potions
to Arthur and
Vivian
, knowing that Arthur's infatuation with Vivian would incense Olaf.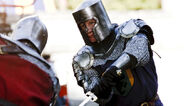 The duel was fought at the
Duelling pitch
in three rounds: the first round was fought with
quarterstaffs
, the second round was fought with
maces
, and the third round was fought with
broadswords
.
Merlin
managed to undo the love enchantment on Arthur before the prince killed Olaf in the duel, and the act of sparing the king's life was sufficient to bring Olaf back to the negotiations table (
Sweet Dreams
).
Victory: Arthur Pendragon
Ad blocker interference detected!
Wikia is a free-to-use site that makes money from advertising. We have a modified experience for viewers using ad blockers

Wikia is not accessible if you've made further modifications. Remove the custom ad blocker rule(s) and the page will load as expected.