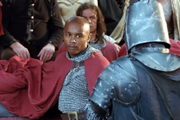 duel between Sir Pellinore and Tristan de Bois
took place following
Owain's death,
Tristan de Bois
threw his
gauntlet
on the ground again, this time
Arthur
was very eager to take it, but
Uther
held him back, allowing
Sir Pellinore
to accept it. Later that night, Arthur complained about Uther pulling him back and stating that Pellinore is still recovering from the events of
Othanden
. Yet the very next day Sir Pellinore fought the Black Knight. Pellinore was a lot more skilled than
Owain
, so he was easily winning the duel. He eventually struck a blow, letting the citizens of
Camelot
see it.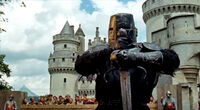 Tristan then pulled the
sword
out and defeated and killed Sir Pellinore, leaving the spectators both shocked and confused. After these events, Arthur threw down his own gauntlet, and challenged the Black Knight to yet another duel. However, Uther ended up
fighting the Wraith
(
Excalibur
) in Arthur's place.
Victory: Tristan de Bois
Ad blocker interference detected!
Wikia is a free-to-use site that makes money from advertising. We have a modified experience for viewers using ad blockers

Wikia is not accessible if you've made further modifications. Remove the custom ad blocker rule(s) and the page will load as expected.