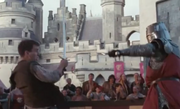 duel between Uther and Gilli
occured in the final round of the
Decennial Tournament
.
Gilli
was cheating in this tournament by using
magic
.
Merlin
, who had warned him earlier, was helping
Uther
by using his own magic to prevent
Gilli's
.
Gilli
was winning the duel with the help of his magic and was about to kill the king. But
Merlin
used magic to knock Gilli back, and after that
Uther
defeated Gilli to win the tournament a fourth time (
The Sorcerer's Shadow
).
Victory: Uther
Ad blocker interference detected!
Wikia is a free-to-use site that makes money from advertising. We have a modified experience for viewers using ad blockers

Wikia is not accessible if you've made further modifications. Remove the custom ad blocker rule(s) and the page will load as expected.