Ebor
along with
Dagr
were one of the two men who participated in the tournament at
Camelot
so that they could have their revenge on
Arthur Pendragon
for their humiliation in
Mary's
tavern.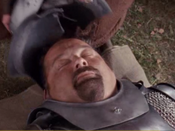 In order to do this, they killed Sir
Ethan
and Sir
Oswald
and took their appearance using
Blood crystals
, so they could participate in the tournament which would give them the opportunity and a cover for killing Arthur. However, before they could kill
Arthur
, he and
Dagr
were both killed by
Gwaine
and Arthur (
Gwaine
).
Ad blocker interference detected!
Wikia is a free-to-use site that makes money from advertising. We have a modified experience for viewers using ad blockers

Wikia is not accessible if you've made further modifications. Remove the custom ad blocker rule(s) and the page will load as expected.