Enchantments
or incantations, are a type of
spells
created using words that are attached on a relatively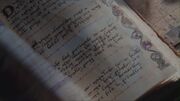 permanent basis to a specific person, object or location and alter its qualities. Enchantments are spells of
sleep
,
illusion
or spells of the mind - the magic of adding or subtracting properties to a pre-existing element or even item.
An enchantment with negative effects is usually referred to as a curse.
Known enchantments
Edit
Ad blocker interference detected!
Wikia is a free-to-use site that makes money from advertising. We have a modified experience for viewers using ad blockers

Wikia is not accessible if you've made further modifications. Remove the custom ad blocker rule(s) and the page will load as expected.