Gaius' Chambers is a room up in the castle tower full of potions and books mainly about science. The room is cluttered with many peculiar objects like vials, stones, and a rabbit mask. He also owns a leech tank, which he had Merlin clean on one occasion (The Once and Future Queen). Gaius has treated many patients who have needed to stay overnight in one of Gaius's several cots or beds including Merlin, Lancelot, Gwaine, Morgana, and several others.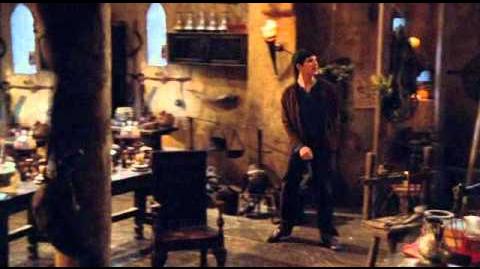 Merlin's Room
Edit
Merlin's room is at the back of Gaius' chamber. The room is fairly simple. It has a few drawers, cupboards and a small bed. Merlin's room also has a window with an elaberate view of the city, Gwaine enjoyed looking out upon Camelot through it during his first visit (Gwaine). It is also where Gwen helped nurse Hunith back to health after Nimueh tried to kill her in exchange for a life (Le Morte d'Arthur).
Click "show" to see the gallery. 
Ad blocker interference detected!
Wikia is a free-to-use site that makes money from advertising. We have a modified experience for viewers using ad blockers

Wikia is not accessible if you've made further modifications. Remove the custom ad blocker rule(s) and the page will load as expected.