"

There is no magic that can break this enchantment

"

—

Kilgharrah to Merlin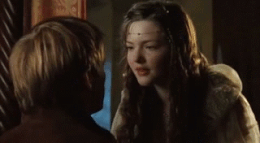 Love spell is an enchantment that can make two people fall in love for each other. Love spells can be both used to make a person love the caster of the enchantment or another person. They are very powerful forms of magic, for they interact with the greatest force of all: love. Love spells are also very difficult to break by another sorcerer or even the same person that has put the spell on someone.
According to Merlin, there are over 636 love spells and over 150 of them involve a lock of hair (Sweet Dreams).
The known love spells have been used in these occasions:
Gallery
Ad blocker interference detected!
Wikia is a free-to-use site that makes money from advertising. We have a modified experience for viewers using ad blockers

Wikia is not accessible if you've made further modifications. Remove the custom ad blocker rule(s) and the page will load as expected.