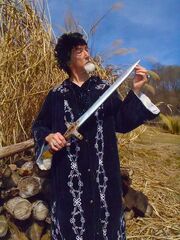 The great BBC series Merlin is just the latest in a long long series of entertaining and inspiring stories based on Arthurian legend and the great wizard Merlin.  Merlin is definitely still alive!  See the video...
Section heading
Edit
Merlin is receiving questions from his friends and fans at ask@merlinseffect.com.  He will honor as many of these questions as he can with short video responses. To stay informed, subscribe to his youtube channel at http://www.youtube.com/user/MerlinSpeaks/videos. 
Section heading
Edit
Merlin encourages you to use the tools of fantasy to get into deeper connection with reality.
Ad blocker interference detected!
Wikia is a free-to-use site that makes money from advertising. We have a modified experience for viewers using ad blockers

Wikia is not accessible if you've made further modifications. Remove the custom ad blocker rule(s) and the page will load as expected.