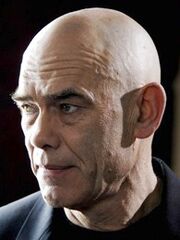 Peter Guinness is an English film, television and theatre actor. He played Ari in series 5's The Diamond of the Day: Part One.
He has appeared in over fifty television productions and over ten films. Guinness has also appeared onstage in an adaptation of The Pianist.
Film and television work
Edit
HeartBeat TV episode Riders on the storm 1993
Personal life
Edit
He is married to Roberta Taylor,[1] an actress and writer. In 2010 he came out in support politically for the Labour Party, after appearing in one of their election broadcasts.
Ad blocker interference detected!
Wikia is a free-to-use site that makes money from advertising. We have a modified experience for viewers using ad blockers

Wikia is not accessible if you've made further modifications. Remove the custom ad blocker rule(s) and the page will load as expected.