Pudsey was a "monster" that menaced Camelot. It was described by Merlin as "horrible, yellow and with only one eye." Merlin informed the court of Camelot of its appearance. Uther, believing it to be a creature of magic, wanted it destroyed. Gaius corrected him saying that it was a creature of charity and told him that the kingdom had to raise lots of money. Uther refused to have Pudsey fleece his kingdom but Gaius explained that someone must be humiliated to amuse the public. This person was Merlin, who spent the day in the stocks. After so much money was raised, Uther decided to honour Pudsey every year, and Gaius was sure that that Merlin would be thrilled. Uther later addressed his people calmly, saying: "Give your money to Pudsey, or I'll chop your head off."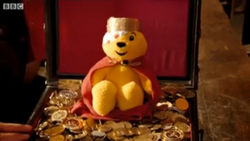 Ad blocker interference detected!
Wikia is a free-to-use site that makes money from advertising. We have a modified experience for viewers using ad blockers

Wikia is not accessible if you've made further modifications. Remove the custom ad blocker rule(s) and the page will load as expected.