Serkets are large creatures, having the appearance of a scorpion about the size, if not larger, than a human.
When Morgana searched for the Druids, she found herself surrounded by Serkets. She was stung on the leg before being saved and cured by Aglain (The Nightmare Begins).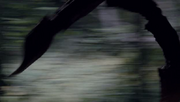 Spoyerke After Merlin was caught eavesdropping on Morgause and Morgana he was chained up by King Cenred's men. Morgause enchanted the chains so that the more Merlin struggled, the tighter they became. He was then left on his own surrounded by Serkets. He tried to break his chains using magic but failed. Then he just forced them away with magic, but eventually he was struck by a Serket sting in the back. Merlin called for Kilgharrah before falling unconscious. Kilgharrah then came to Merlin's rescue and killed the Serkets with his fiery breath (The Tears of Uther Pendragon).
Appearances
Edit
Series 2

Series 3

Series 5
Ad blocker interference detected!
Wikia is a free-to-use site that makes money from advertising. We have a modified experience for viewers using ad blockers

Wikia is not accessible if you've made further modifications. Remove the custom ad blocker rule(s) and the page will load as expected.