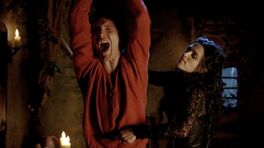 Torture is a method which is used to hurt other individuals to either get information, traumatize, punish or manipulate them. Torture can come in forms ranging between giving excruciating mental/emotional pain to the victim and it can involve magic or physical abuse.
Forms of TortureEdit
Physical TortureEdit
Examples:
Aredian denied Gaius water and used harsh, edging on violent, treatment of him to force Gaius to confess to sorcery.
After taking over Camelot for the second time, Morgana used a serpent called the Nathair to torture Elyan for information on Arthur's whereabouts. As a result Elyan was forced to give the information and was incapacitated by the ordeal. (The Sword in the Stone: Part 1)
When Arthur encountered Morgana for the second time after she took over Camelot for the second time, Morgana tortured Arthur by enchanting her dagger to slash him repeatedly before attempting to kill him. (Arthur's Bane: Part 2)
Mental/Emotional TortureEdit
Examples:
Miscellaneous TortureEdit
Example:
Although she was not actually getting information from Merlin when capturing him, Morgana tortured Merlin by inserting a Fomorroh inside his neck so that she could control him to get him to kill Arthur. Inserting the Fomrroh, which borrows into the back of the based of the neck, causes the victim extreme pain. The Fomorroh could also be used to emotionally torture an individual by forcing him/her to do something against his/her will, as Morgana attempted to do to Merlin by forcing him to try to kill Arthur. Had his attempts succeeded, the guilt and remorse Merlin would have felt would have been his undoing. (A Servant of Two Masters)
Ad blocker interference detected!
Wikia is a free-to-use site that makes money from advertising. We have a modified experience for viewers using ad blockers

Wikia is not accessible if you've made further modifications. Remove the custom ad blocker rule(s) and the page will load as expected.