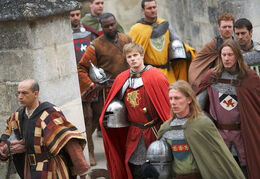 The
Tournament of Camelot
is a prestigious contest held in the city of
Camelot
.
The tournament is a yearly single-elimination competition in which knights of the realm of Albion compete in one-on-one duels at the duelling pitch to determine the Champion of the tournament. Entrants have included Arthur Pendragon, Sir Valiant, and Sir Ewan. Champions have included Prince Arthur, who won the tournament two years in a row, defeating a magical shield-wielding Valiant for his second consecutive victory (Valiant).
Ad blocker interference detected!
Wikia is a free-to-use site that makes money from advertising. We have a modified experience for viewers using ad blockers

Wikia is not accessible if you've made further modifications. Remove the custom ad blocker rule(s) and the page will load as expected.